SwimMechanics@yahoo.com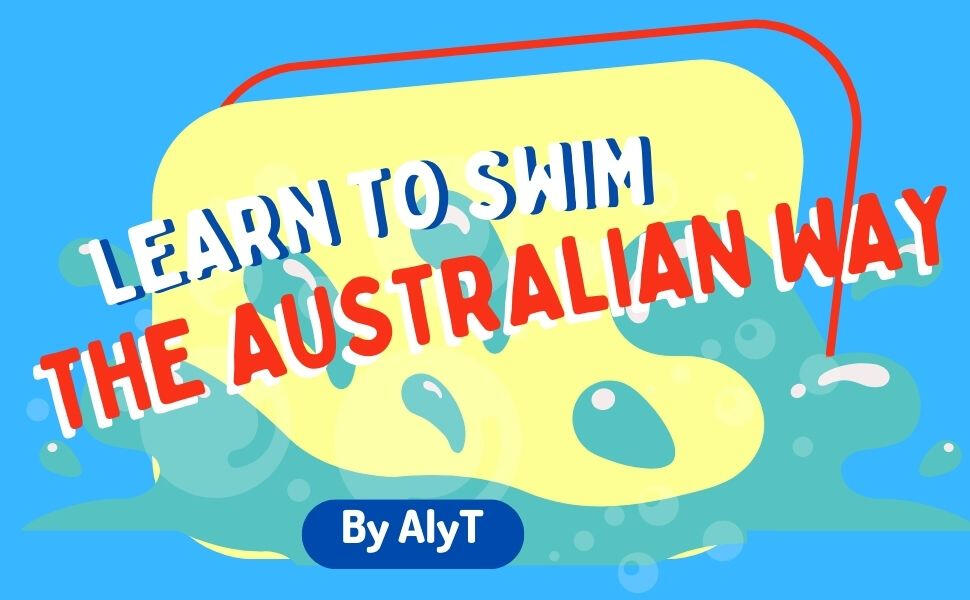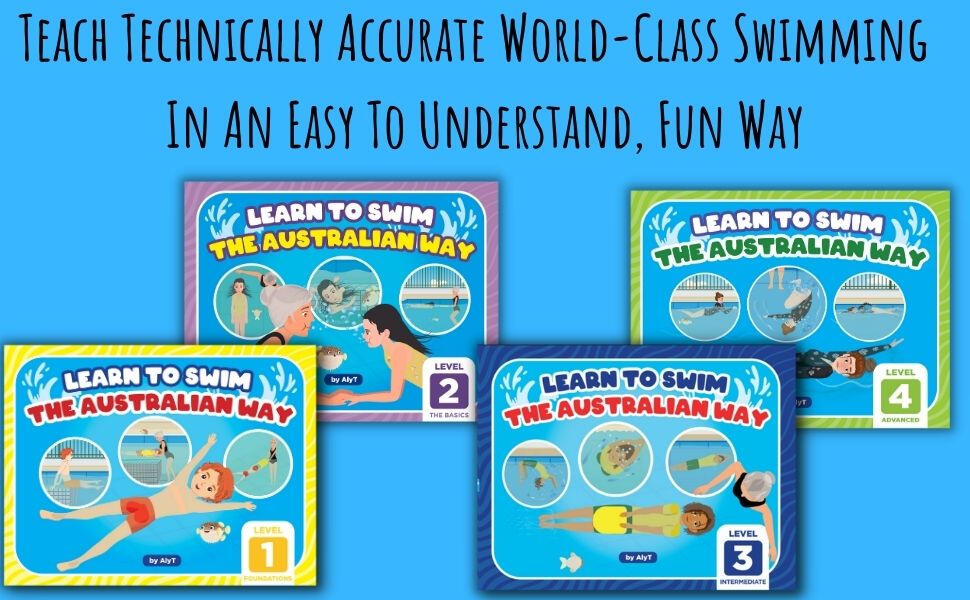 Let's face it, teaching children to swim all four competitive strokes plus water safety can be a challenging task for any parent or instructor.Not only do you need to deal with the usual struggles of getting kids to listen and maintain their interest, you also need to keep them safe in the water and progressing. And let's not forget about getting them to their swimming lessons on time with all of their gear packed and goggles adjusted - it can be a nightmare!As a parent, it's natural for you to want the best for your child, and that includes providing them with the skills they need to be safe and confident in the water. And that's pretty important!We wanted to make learning to swim World-Class Swimming accessible and affordable to everyone - regardless of age, gender, income and background etc.Our 'Learn To Swim The Australian Way' series has been designed with just that in mind.Our books aren't your typical "learn-to-swim" guides, they are filled with helpful tips and techniques to fast-track learning for swim students ages 3,5 or 85 all the necessary swimming skills with ease and confidence PLUS they're cost and time-effective for parents and swimming teachers alike.So whether you are an experienced instructor or a parent looking to teach your child, 'Learn To Swim The Australian Way' is the ultimate companion for attending formal swim school lessons or a comprehensive tool for parents wanting to teach their kids at home.
Dive in and give them a go - we think you'll love them!
TAKE A LOOK: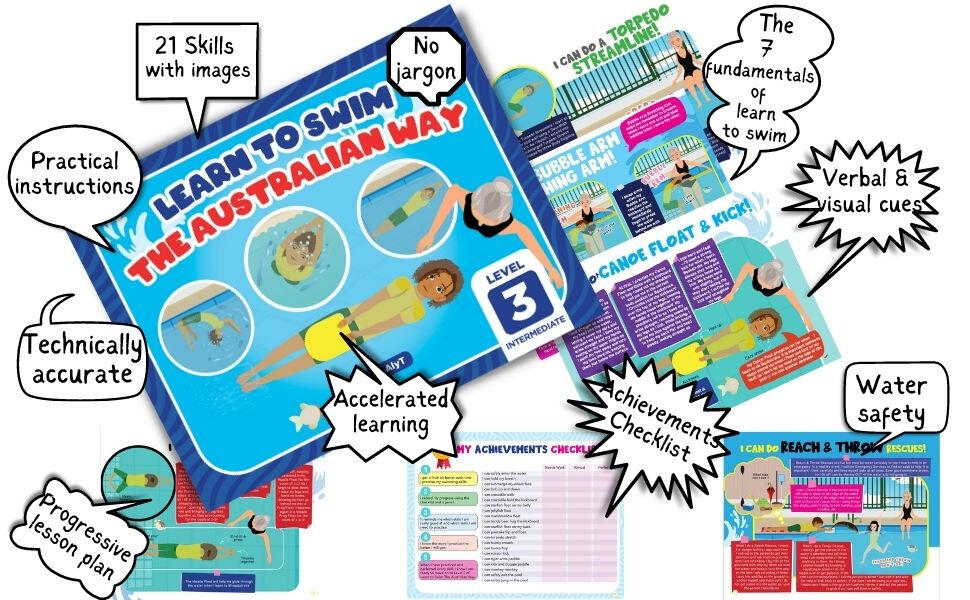 A Uniquely Different Way to Learn To Swim
We created the 'Learn To Swim The Australian Way'
series which uses easy to follow, progressive skill building to teach each of the 4 Competitive Strokes, Dives & Turns, Water Safety and more...in a fun & unique way!!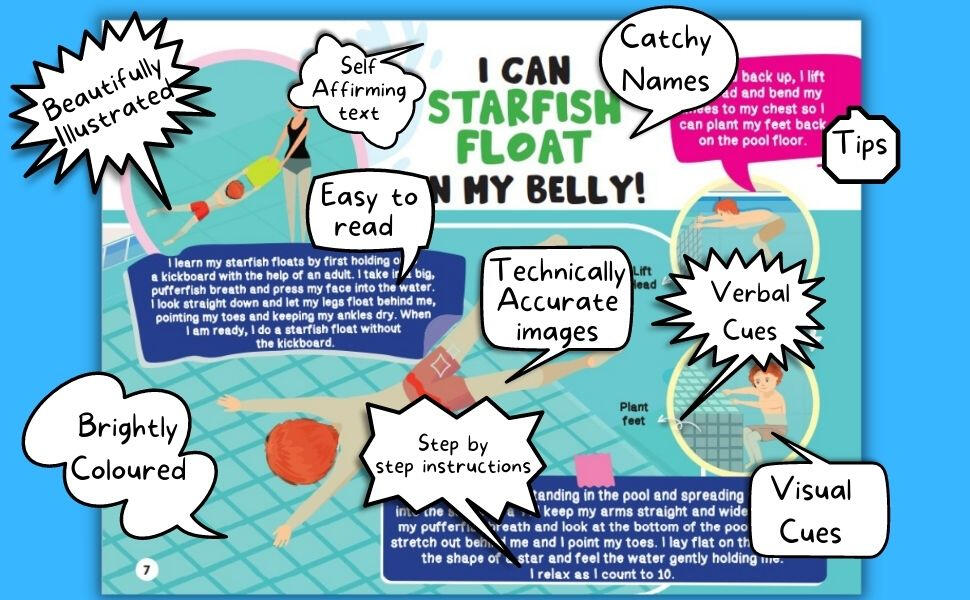 We do things a bit differently
We totally understand how important it is to get kids into swimming.But we noticed lately that a lot of swim schools out there are taking a new direction when it comes to teaching swimming - which is fantastic, don't get us wrong!But we think it's crucial to focus on building essential swimming skills using old-school methods that work to get kids swimming sooner. Stuff like:* NOT using flotation devices during class time
* teaching in shallow water
* practicing swim skills over short distances
* incrementally building the stroke before moving on to specific swim stroke techniques like 'arms & breathing'
* not relying on toys, games & singing songsThat's why we created the 'Australian Way Method'.Besides not following the current trends in teaching, we teach our students and readers the competitive swim strokes, dives & turns and water safety, using a unique approach of breaking down each skill into smaller, more manageable pieces using visual, verbal and tactile cues.
Read The Books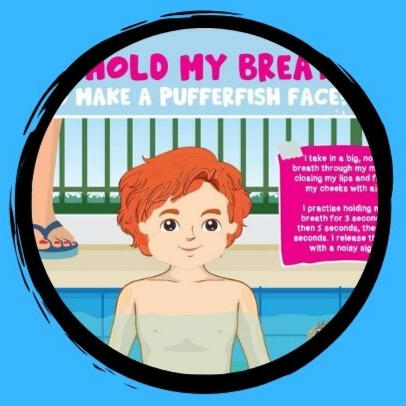 We encourage parents & kids and swim teachers & students to read the books to get familiar with each activity.
Rehearse The Skills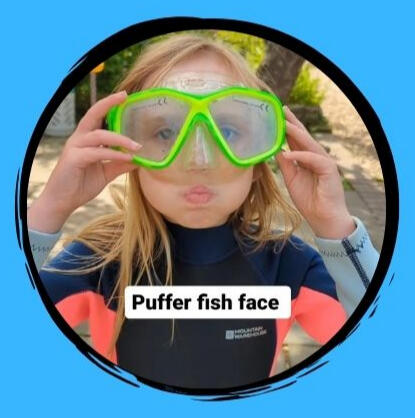 Swimmers should practice and rehearse the skills from the book to become familiar with each skill and how to do it.
Practice In The Pool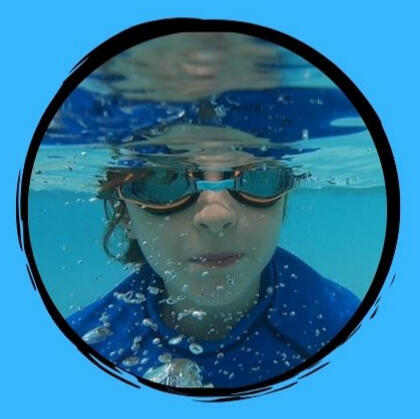 Hop in the water, have fun and show off your newly acquired skills!
THE AUSTRALIAN WAY METHOD ALLOWS FOR EASIER PROGRESSION AND ACHIEVEMENTPLUS we focus on those little intricacies that other methods often miss, such as learning to swim narrow, holding a kickboard correctly to ensure proper hand tension and elbow positioning, perfecting the power phase of each stroke and mastering the timing of Butterfly and Breaststroke.
HERE'S WHAT YOU'LL DISCOVER INSIDE LEARN TO SWIM THE AUSTRALIAN WAY...
The 7 Fundamentals of learning to swim; miss these and you'll always struggle to swim and wind-up needing expensive stroke correction classes...

The KEY to World-Class, technically accurate Butterfly, Backstroke, Breaststroke & Freestyle. I read the textbooks, studied the Elite Coaches from around the world and watched the World Champion Swimmers to learn to swim just like them...

21 Skills in each level for swimmers to rehearse and revisit as they build their stroke. Never worry about regressing even if you have time off from swimming or miss lessons...

Swimming tips & cues and fun names for each skill to reinforce learning and memory recall from a Swim Teacher with over 25+years teaching experience...

Water Safety Essentials inc. Survival Sequences, Treading Water, Rescues & Side Stroke...

The graceful art of Mermaiding and Body Dolphining to ensure Butterfly becomes an impressive favourite not a mechanism of torture...

Dives, Starts & Turns to prepare you for joining a mini-squad and taking your swimming to the next level...

Achievements Checklist & Progress Tracker to motivate and track improvements during the learning journey...

My personal LESSON PLANS for teaching learn to swim at any age. We've organised the 21 skills for our swimmers to GRADUALLY PROGRESS in a way that...DEVELOPMENTALLY MAKES SENSE and is easy to follow.

You'll learn exactly WHAT TO TEACH and HOW TO TEACH IT!!

Learn one skill a day OR at your own pace to progressively build the strokes and swim skills from a total beginner to an absolute Pro of every stroke...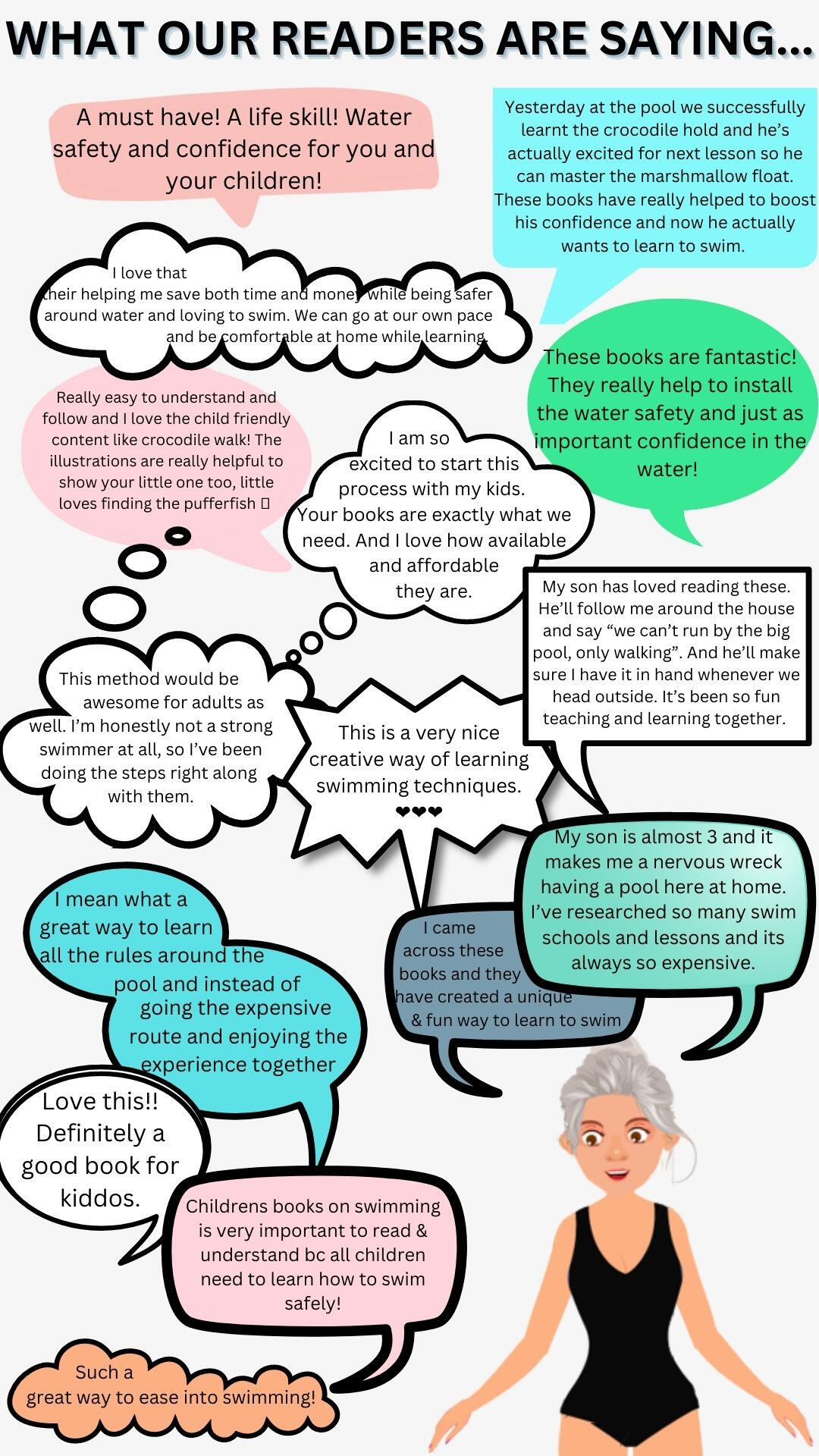 You Won't Find Anything Like it on the Market!!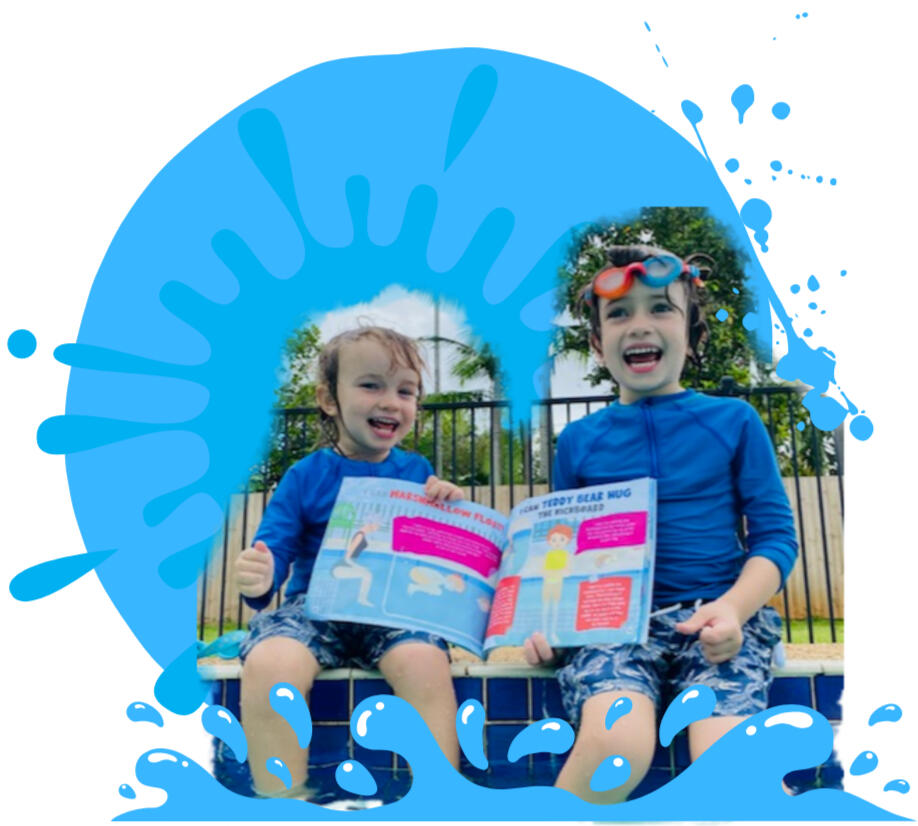 FAST-TRACK YOUR LEARN-TO-SWIM AND SAVE $1000'S IN SWIMMING CLASS FEES
Formal swim classes can cost upwards of $18 per class or $50 or more for a private lesson and can take anywhere between 6 months to over a year to get your child swimming at a competent level.Attending lessons, the suggested 2-3 sessions a week, can make learning to swim very expensive, very quickly...more so if you have more than one child.Based on an average price of $18/swim class, 2 lessons every week, you're looking at around $1,440 for a 40 week term. Per child!!BUT! By getting swimmers to a technically accurate level SOONER, you'll save $1000's in FEES and they'll be more likely to - stay in the sport they love, win when they compete, live a healthier lifestyle and maybe even join a swimming, lifesaving or triathlon club.Learning along with your child also has the added benefit of more QUALITY TIME TOGETHER and less time trying to get to lessons ON TIME, finding a park at busy swim centres, waiting on WAITLISTS or watching your child wait their turn in CROWDED CLASSES.What would that be worth to YOU?
About Your Swim Instructor
My name is Allison Tyson, otherwise known as AlyT in the online Swimming Community.
I've been swimming for as long as I have been walking and a qualified swim instructor since 1993. I grew up at the local pool, the daughter of my home town's (Cairns, Australia) BEST SWIMMING TEACHER.To this day I LIVE TO SWIM.During Covid, like many places around the world, my local pool was forced to shut down.It was during the forced closures I decided to write a series of learn-to-swim books for parents and guardians, so that ANYONE, ANYWHERE could use my methods to teach their kids to swim.I decided to start a #SwimmingRevolution with the goal of making QUALITY learn-to-swim lessons AFFORDABLE and ACCESSIBLE to EVERYONE.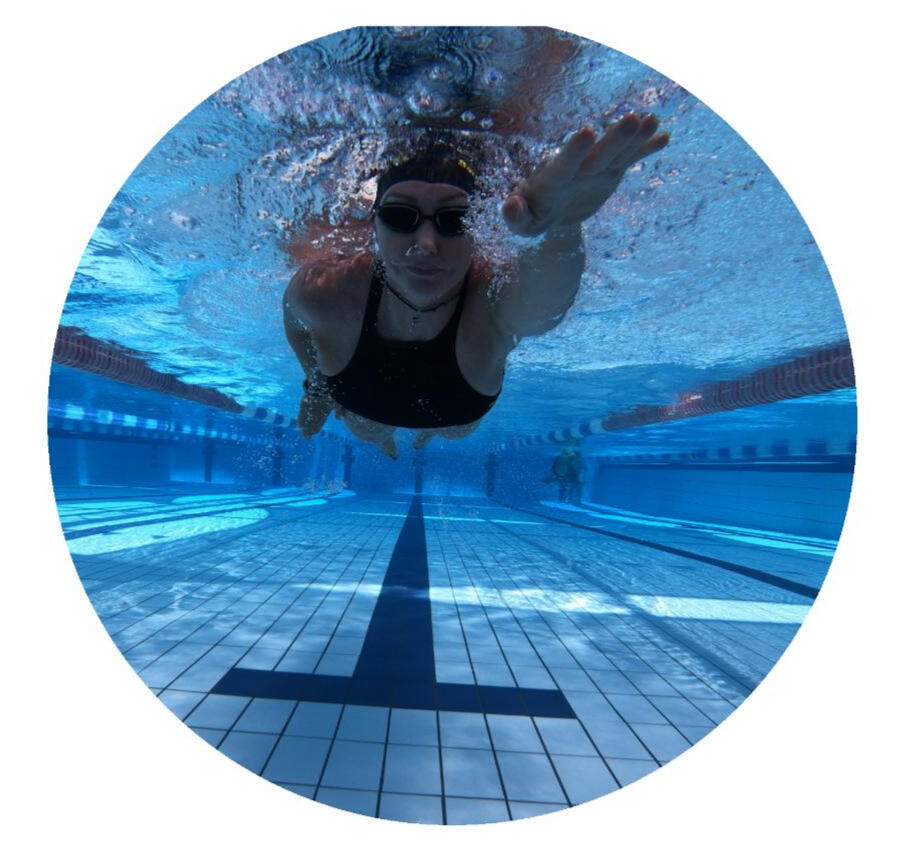 Frequently Asked Questions
I know nothing about teaching or swimming - Not a problem! We've made these books so easy to follow ANYONE can teach swimming and know exactly what to teach and in which order to teach it. The complexities of swimming are broken down into little steps. You just need to follow each step. We guarantee you will learn along with your kids.

What age best suits these books - Children from as young as 3yo right up to teenagers and adults can use our books. We recommend our Water Awareness For Infants for littlies younger than 3yo. Check out the website >>>infantwaterwareness.com

I don't have a pool - If you can't teach your kids in your own pool or the neighbour's backyard pool, take them along to your local public pool. I personally like to laminate the pages and use them in the water with me as I teach!

I don't have a lot of time - Kids love your attention and we love seeing them fit and healthy. The books are ideal for reading before bed or practicing during the day before heading out to the water. Get them to read the books ahead of time or read them together and you'll learn along with your kids + they get the benefit of spending quality time with you and learning a skill for life.

My kids are already attending swim lessons - One of the biggest benefits of our books is they accelerate learning so you can save money and time attending lessons. Most teachers only know the basics about swimming; our books teach the mechanics of swimming in a way that even a 5yo reading them can understand it. Get your kids to the top of the class in no-time!

Even the discounted price seems expensive - The beauty of our books is you won't just read them once or twice. They are a must-have. EVERY TIME you go to the pool you'll use them to revise, make an improvement or learn something new + every child in the family can reuse the books and teach each other what they've learnt.

Do we need any specific equipment - All you need is access to a pool with waist-deep water, a kickboard, a $3 pool noodle and a copy of our books.

Who are you and why should I trust your swimming teaching method - I am a 73' Edition, mother of 2 who's been teaching swimming on and off since I was 21. I've been swimming since I was 2 and am the daughter of a swimming teacher and mini-squad coach. I am an avid reader and love keeping up to date with all the latest technology and insight from Coaches all over the world. I am also a competitive swimmer and know how to swim not just faster but smarter. Check out my Instagram profile @LearnToSwimTheAustralianWay for more tips and to get to know me better.
© Born To Swim. All rights reserved.
Disclaimer
When taking part in any water activities you must ensure that at least one responsible adult who can swim is present at all times.Following the instructions in Learn To Swim The Australian Way books you must ensure that there is a safe place to perform the activities safely.You should understand that participating in any exercise program carries the possibility of physical injury.
If you choose to engage in these exercises or swimming activities outlined in our book, you agree that you do so at your own risk, you are voluntarily participating in these activities, and assume all risk of injury to yourself and or the child in your care.By following any of the activities outlined in Learn To Swim The Australian Way you understand that it is your responsibility to know your child's physical and mental capabilities for the activities you choose to take part in.Born To Swim and their representatives expressively disclaim liability for all damages and assume no liability or responsibility for any loss, injury, or damage suffered by any person as result of the use, misuse, reference to, reliance on, or result obtained from any information.
---